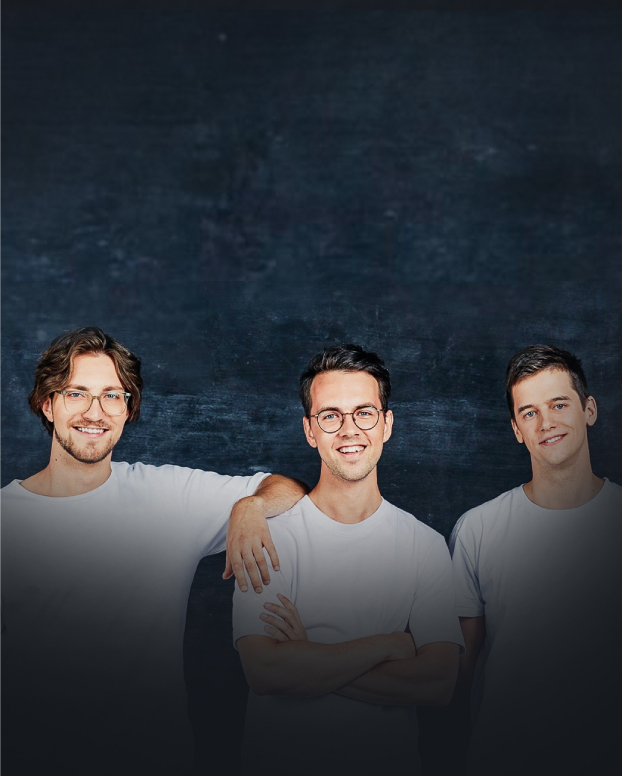 The benefits of a co-founder setup and how to get it right
February 28, 2023•5 mins read
So you're establishing a startup. Chances are you've decided that being a co-founder is a better bet than going it alone. 
After all, there's a lot of evidence to suggest that co-founding is preferable to being a solopreneur. When Silicon Valley venture capitalist and author Ali Tamaseb trawled through masses of data on every billion dollar company established since 2005, he discovered that 80% had more than one founder. 2 or 3 co-founders was the most common setup. 
This raises some obvious questions. What are the challenges of having a co-founder set up? And what should startups do to find the right balance?
We sat down with Lukas Kaminskis, CEO at Turing College, to talk about the advantages and challenges of having multiple founders, and what the "secret formula" is for finding the perfect balance.
And Lukas should know, having co-founded an innovative edtech platform for coding and data training together with Benas Sidlauskas and Tomas Moska. Last year, Turing College became the first Lithuanian company to receive Y Combinator backing, and it is currently scaling internationally. 
The advantages of a co-founder set up
According to Lukas, having more than one co-founder brings significant advantages in terms of both decision-making and morale.
"Firstly, the quality of the decisions made are twice as good as they would be with a single founder," Lukas points out. "I can think of so many situations when one of us was struggling to make a decision. And after a discussion where we had 3 minds focused on the same problem, we were able to find a solution in a matter of minutes. A different perspective can get out of the loop you're stuck in."
There's also the huge motivational boost you get from being surrounded by a group of people who share your vision, and will also share the high and lows of the startup experience.  
"There's that entrepreneurial adage that Startups Die of Suicide, Not Murder," says Lukas. "The founder's journey is a rollercoaster. In the morning you think it's not going to work. Then by the afternoon you believe world dominance is inevitable. It can be a heavy emotional journey and having positive, like-minded founders around you is essential in helping you to keep faith in your vision."
The challenges co-founders bring
Of course, working so closely with co-founders is not always plain sailing. 
The first challenge, according to Lukas, is focus and interest. "If your journey towards product market fit is long (2-4 years), some founders might lose interest and start looking for other opportunities. This can kill your startup. The solution is to find a way of working in which everyone feels equally important and valued."
Feeling important might also connect with another key challenge: egos.
"Co-founders often come with big egos," Lukas points out. "This is the startup sphere after all."
"It's important to keep the egos of your co-founders in check. You can slip into paying too little attention to building relationships, or failing to provide regular opportunities for feedback and discussion. This can spell disaster."
3 strategies for making co-founding work
Get co-founding right, and you'll see improved decision-making and morale. But get it wrong, and the effects on your startup can be terminal.
So, here are 3 ways Turing College's co-founders have found the right balance.
1. Sharing a vision and always adding value
Co-founding came naturally to the Turing College guys. "Having 3 co-founders wasn't a conscious decision," says Lukas. "We just started things together with a shared vision."
The allocation of responsibilities followed naturally. "We found a way to share responsibility so that each of us would bring value to our company. Our philosophy is that we should be in front of the company's growth curve."
This approach also requires a strict sense of accountability. "If we can't keep up with the pace that's needed to deliver value for our clients, we need to fire ourselves and replace our position with someone who can do it better," Lukas explains.
2. Having distinct roles while remaining flexible
At Turing College, each co-founder has their own clear position and scope. This allows co-founders to add the most value and complement each other, without stepping on each other's toes. 
Lukas (CEO) is in charge of marketing, user acquisition, and business strategy. Benas (CBDO) handles partnerships, student success, and legal. And Tomas (CPO) is responsible for the platform, automations and product integration.
Of course, there needs to be some flexibility for roles to develop and change over time in parallel with the business' expansion. "When we started, my primary expertise was in education," says Lukas. "So initially, I was in charge of hiring the education team, and areas like curriculum quality. But as the company grew, my areas of responsibility moved towards marketing and user acquisition." 
3. Giving decision-making autonomy while valuing consensus
The final piece of the puzzle is clear decision-making structures.
"We have clear areas of ownership, and we're fully independent when making decisions within that area."
But when it comes to decisions that affect the entire business, the co-founders work through consensus. "For example, when hiring C-level executives, or making changes to business models, we discuss everything together before making a decision," Lukas explains.
This clarity on decision-making helps to ensure conflicts are avoided. "What we have observed is that conflict arises when there isn't a precise decision-making mechanism or ownership in place," says Lukas.
The key to success - focus on the relationships
A shared vision, distinct roles, and clear decision-making structures are clearly crucial for ensuring a successful co-founder balance.
But for Lukas, it's the levels of respect and patience between the co-founders that ultimately makes or breaks a team.
"Having a founder relationship is quite similar to being in a relationship," Lukas argues. "You should be in sync with your founders on everything. So, you need to listen, be patient, and respect their opinions."