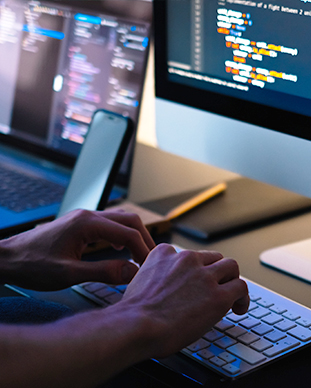 9 ways to hack the global growth
October 22, 2021•4 mins read
Tesonet Accelerator recently hosted one of its Teso Talks series events for founders looking to scale. This time, we invited C-level leaders with first-hand experience scaling products around the globe to share their secrets.
The keynote was delivered by Gilles de Clerck, Founder at Ablaze Growth Studio and growth strategist with wild achievements like growing MRR by 3900% in a year. He was joined for a panel discussion by:
– Vytautas Paukštys, CEO at Eskimi DSP & ActiveXT, who conquered the African market, then pivoted and conquered it again.
– Rytis Meškauskas, CRO at Nord Security, the leading VPN provider in the most competitive US market.
– Tomas Montvilas, CCO at Oxylabs, a pro-player in organizational growth, currently focusing on AI-powered customer data management & analytics solutions.
In case you missed the event, here's your chance to digest the key takeaways in 3 minutes.
According to Gilles, there are no borders for business growth on the Internet, except for the limitations that inherently come with your total addressable market – language, network, and legal environment. Localize your product, to begin with.
When you know what your actual serviceable addressable market is, look deeper into what niches make it up. Gilles' advice – don't take it all at once. Start with a single niche – the one where you have a product-market fit, and take it from there. Your goal is to enable each community of users to use your product for achieving their specific goals.
It might make you raise your eyebrow first, but this is exactly what Gilles suggests – tailor messages to the audiences based on how aware and in need those audiences are. There's more upside in focusing on the marginal user – the power user will probably stay in any case because they already have a good experience with your product.
One of the mistakes that many founders make is not building an MVP and not testing their ideas enough – just going straight full-scale. Advice from Vytautas Paukštys, Eskimi DSP & ActiveXT: intuition is great but trust the market data because it's telling you the real truth.
Gilles shared a hack that's guaranteed to save you some time – before deciding on your scaling strategy, find someone who has experience in the exact market you're after, then analyze what worked for them and what didn't. It might be even worthwhile paying for this information instead of doing all the testing yourself.
Tomas Montvilas from Oxylabs emphasized the major roadblock preventing your business from scaling – not figuring out the right business model that is actually scalable. The most difficult question for founders, according to him, is when to pivot. The answer is you should pivot early and keep pivoting until you find what works.
Different products require different sales processes, and ignoring that might backfire later, says Vytautas Paukštys. Startups with tech and product in the spotlight tend to neglect sales and marketing, but you can't grow without having a solid sales capability.
Talent is the biggest hack. A tip from Tomas Montvilas – look for the people that are as excited about your product as you are. You can only scale your business if you're able to scale your operations and supply quickly, and you can't do that without great people.
A piece of advice shared by Rytis Meškauskas, Nord Security – give your team a really clear target and be efficient on each dollar that you spend – so that you have dollars to spend next month as well.
–––
Check us on Youtube for a full video of Gilles' keynote and the panel discussion. You can also find more useful stuff – street smarts for scaling products, as he calls it – in Gilles' blog.