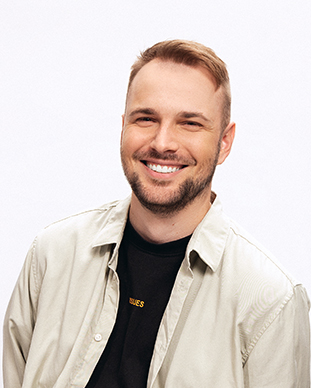 Growing globally? A marketing expert explains why influencer marketing is the perfect channel
August 9, 2022•6 mins read
Having covered growth marketing in a detailed article and a NordPass case study, it's time to get granular on all things influencer marketing.
Influencer marketing has grown almost 10 fold in the last 8 years, and Influencer Marketing Hub estimates the industry will be worth $16.4 billion by the end of this year.
The reason for this growth is simple. Influencer marketing works. Research by Oberlo suggests 42% of people who see influencer ads end up trying the product.
So, to learn more about influencer marketing we caught up with Giedrius Petraitis, Head of Influencer Marketing at Surfshark. He walked us through the key advantages influencer marketing has over other channels. He also outlined Surfshark's approach to this channel, from enabling creativity through to simple ways to track influencer marketing's impact. It's a must read for startups working on or refining their marketing strategy.
A channel that addresses every funnel stage
According to Giedrius, it is the fact that you can cover every stage of the marketing funnel in one short message that makes influencer marketing one of the most effective marketing strategies out there.
"Influencer marketing drives brand awareness, consideration and conversion," Giedrius points out. "And people tend to forget that you can't get one without the other. With influencer marketing, it's 3 for the price of 1 – the deal of a lifetime. Most popular marketing channels tend to cover only one part of the funnel, but influencer marketing covers them all."
"In a 60-second integration on YouTube, influencer marketing is capable of addressing every stage of a user's journey."
This script for a 1-minute Surfshark integration on YouTube shows exactly how an influencer can take their audience seamlessly through every step of a user's status. This starts with them not even being aware they have a problem, and moves through to understanding how to solve it and, finally, deciding to make a purchase.
(Image source: Surfshark) 
A short YouTube integration can take users from lack of awareness they even had a problem right through to conversion, explains Giedrius Petraitis, Head of Acquisition Marketing at Surfshark.
A human connection with audiences around the globe
Another notable advantage of influencer marketing is the fact that it is built on strong interpersonal connections that facilitate trust.
"The importance of the human connection between the influencer and the audience is enormous," he explains. "It really helps to sell the product."
Because it is built on human relationships, influencer marketing is also ideal for localization (another topic we have recently covered on this blog). Influencers understand their audience well, and can help you to refine your messaging for specific audiences and countries.
"Influencer marketing gives us a way to test various approaches in different countries worldwide," explains Giedrius. "We can then enter a specific market much faster without investing many resources."
Case study: Surfshark's global influencer marketing campaign
To finish up, let's take a look at a major influencer marketing campaign in action.
Surfshark has put influencer marketing front and center of its marketing and outreach. Over the last 3 and a half years it has worked on over 20,000 content units with influencers in 105 countries, receiving over 5 billion views.
So, what has its approach to this marketing format been?
Ambitious targets
The first step is to have a concrete understanding of what you hope to achieve.
Surfshark was crystal clear (and ultra-ambitious) on this point. "We wanted to make the brand recognizable among all types of people, and to deliver the product to every household in the world. Hence, from the very early days, influencer marketing was a significant driving force, because it can reach audiences no other marketing channel can."
This clear vision set the parameters for Surfshark's approach: "We carried out influencer marketing at scale – a global approach that requires massive budgets and targeting several regions at once."
Supporting creativity
So we know about the scale of Surfshark's campaigns. But what about the style and approach? Here, creativity takes center stage.
"We definitely support creativity," says Giedrius. "Authenticity in influencer marketing is about the partnership. If the audience sees a partnership in sync, they won't challenge an influencer for receiving money. Audiences love to see their favorite influencer 'succeeding' by partnering with brands and creating a unique connection."
"The crucial part here is letting influencers be creative, because this allows your brand to stand out from the crowd. We work with all kinds of influencers – there is no limitation whatsoever as to who can tell the story. They can be female, male, animals. They could be mascots or even a flying shark. The crucial part is to find a connecting dot between the product and the audience."
Tracking the impact
Although the channel is notoriously difficult to measure, Surfshark has managed to gauge some of the impact that influencer marketing is having on sales.
"We use the usual attribution assets such as vanity URLs and coupons," points out Giedrius. "However, we also deliberately get our customers to complete a post-purchase survey.  Our cost-purchase survey allows us to attribute up to 15% of sales to our influencer marketing. In addition, up to 5% more comes from SERP when people search for a specific influencer on Google."
"This enables us to measure the halo effect influencers tend to create – this is when customers like or trust a product more because it is associated with someone they admire or aspire to be like."
"The only limitation is your imagination"
Ultimately, along with expertise in the technical side of things, success with influencer marketing comes down to mindset. For Giedrius, being open to the widest possible range of influencers and ideas will lead to a more interesting journey, and greater success.
"Even if you don't feel that the content of a particular influencer is relevant to your brand, some part of the audience watching that particular content will find your product or brand relevant," says Giedrius. "This is the fascinating part of influencer marketing, because the only limitation is your imagination."