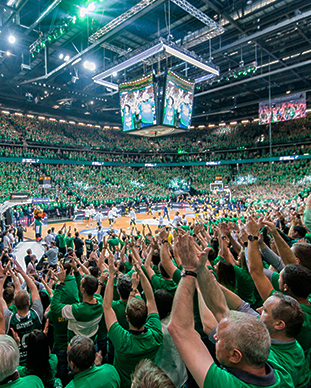 Zalgiris team up with Tesonet to establish sports and technology start-up, 'Zalgiris Ventures'
March 17, 2022•3 mins read
The Zalgiris organization has taken a bold step and expands its family with another company – sports and technology startup Zalgiris Ventures. The newly formed startup, founded together with business accelerator Tesonet, will take care of Zalgiris' innovation strategy, the development of new innovative projects and services and fan experience for the Zalgiris community.
"There are plenty of great examples on how technology startup knowledge can translate to sport innovations. Projects of this scale are carried out by NBA clubs and the world's top football clubs. For example, the 'Madrid Real Next' or the 'Barcelona Innovation' hubs, working with e-health and sports technology projects. We've been working together with Zalgiris for several years now and we have a goal to create new services and innovative projects that could elevate the fan experience to the next level," – noted one of the Tesonet founders Tomas Okmanas.
The Zalgiris organization innovation strategy has several directions for development. One of them is improving the fan experience by using modern technologies and solutions, including expanding the content platform Zalgiris Insider. The development of sports innovations is also planned in order to improve the health condition of the players, prevent injuries and streamline the workflow of personnel and management.
The newly-formed company will be led by Viktorija Jokantaite-Kutke, who joins the Zalgiris organization after her experience with health technology company Kilo Health. Her first tasks in the office will be auditing innovation projects that have already been started, in hopes of improving and developing them, alongside analyzing the need for potential projects and seeking out other opportunities to improve the performance and results of the company, as well as the fan experience.
"It's a huge honor to be a part of a legendary organization, as I believe Zalgiris isn't just Kaunas' team, but the pride of Lithuania. Any organization that has more than just a couple people in it, understands that in the current world of business, innovative solutions and outlook aren't just a thing for startups. Any mature business has to adapt to the swiftly-changing conditions of the market without missing opportunities. In other words, flexibility, speed, adapting to technologies and seeking out innovative solutions allow the optimization of resources and an increase in revenue," – said Viktorija Jokantaite-Kutke.
In the opinion of Zalgiris director Paulius Motiejunas, this project can open doors for new opportunities for the entire club.
"We have experience in managing objects and sports clubs, while innovation is still a reasonably new area for us, so it's natural that some specific knowledge is necessary. We have no doubt that working alongside Tesonet, and with an innovation-dedicated company with Viktorija at the forefront of it, we'll create a number of innovative products that will strengthen our organization, while also providing joy to our fans."
Zalgiris started seeking innovation back in 2019, organizing an international sports technology hackathon, with its innovation strategy in mind. Later on, the Zalgiris innovation studio was established, which has now grown out to the Zalgiris Ventures company.