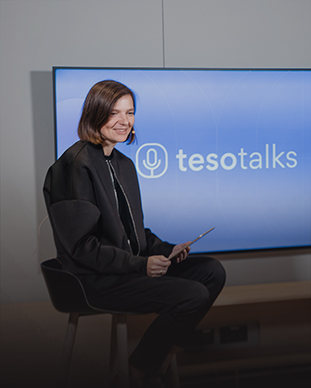 How can EdTech improve learning outcomes?
September 30, 2022•5 mins read
Technology has become indispensable for completing even the most basic of daily tasks, and is now finding its footing in education. The industry is growing and is poised to exceed $1 trillion by 2027. Some colleges are now offering 100% online courses, and platforms like Coursera are partnering with some of the world's most elite universities. But going online is only the first step.
While schools, training centers, and universities remain the main knowledge hub, new solutions are becoming increasingly necessary. As the rate of economic change and competition increases, reskilling and upskilling are becoming the norm for more and more people. The problem, however, is that many incumbent educational institutions are finding it challenging to keep up. Simply put, the labor market is changing too quickly for public education systems to accommodate it without significant delay.
This is why EdTech is becoming a go-to means for bridging that gap.
In anticipation of the upcoming Teso Talks – "Accelerating change. How can technology make education better?", scheduled for October 6, we sat down with the panelists for a casual chat about EdTech and its potential for improving learning outcomes.
Why do we need EdTech in the first place?
Many experts point out that traditional schools aren't nimble enough to accommodate emerging market trends and demand. On the other hand, online courses and programs can be set up relatively quickly, and provide highly specialized, up-to-date, self-paced training at a low cost, which is a massive advantage considering the rising cost of admission to most colleges.
Just as importantly, EdTech is helping to democratize education by increasing access, market fit, and quality and focusing on practical know-how over theory. For instance, platforms like Memby and Teachers Lead Tech are making it easier for teachers and tutors to upskill and bring tutoring to kids.
"There's certainly no shortage of digital tools for education, yet teachers also need ongoing support in fostering children's engagement, creativity, and natural curiosity. We aim to impact 20 million school-age children by empowering teachers and providing them with skill transfer opportunities for as little as €10 per year," said Monika Katkutė, CEO of Teachers Lead Tech.
EdTech is also uniquely well-suited to Millennial and Gen Z students who expect quick results from their education due to concerns regarding technological progress and looming economic instability. According to Lukas Kaminskis, co-founder and CEO of Turing College, some of the most essential features of the modern educational process (especially when it comes to boosting younger students' graduation rate) are:
Social (group) learning – it fosters accountability, social signaling, and sense of belonging. An excellent example of social learning is cohort-based online coding bootcamps, which typically have very high graduation rates.

Personalization – learning and educational content must be calibrated to each person's level of knowledge and skill. Motivation takes a nosedive if a course is too easy or too difficult. On the other hand, breaking up courses into smaller modules raises graduation rates.
Gamification and peer learning are key to the EdTech experience
Teachers have been using games in the classroom for many years, helping engage students in subjects they would otherwise find uninteresting. This includes board games for learning history, awards for high educational achievement, competitions, and other creative ideas.
EdTech, however, is taking gamification to a whole other level. The rising popularity of educational games and certificate-granting online courses underlie forecasts that see the gamification market – valued at $697.26 million in 2020 – growing by at least 29% by 2027.
The same is largely true of education in virtual environments, as pointed out by Daniel Hiterer, Learning Design & Technology MA candidate at Columbia University:
"The Big New Wave of Instructional Design research is learning within Virtual, Augmented, and Mixed Reality environments. Both Learning Experience and User Experience are profoundly different in 3D as compared to 2D spaces – new principles need to be drafted to ensure usability and educational productivity in these new contexts. Thankfully, the research community has some time before technology catches up to being able to offer quality VR/AR devices on a mass scale – figuring out how learning experiences should happen in immersive virtual environments is what we are working on right now."
As for peer learning, which shot up in popularity during the pandemic – its main virtue is in breaking the isolation that people often feel when taking regular online courses. With this collaborative approach, learners shift from passive receivers of information to active participants dispensing knowledge. In addition, teaching comes with the benefit of helping students to better understand and retain information.
EdTech is also making headway in solving the decades-old finding called The 2-Sigma Problem, showing that individual tutoring raises students' performance relative to baseline by two standard deviations. The problem with tutoring, however, is that, for most people, it is prohibitively expensive.
"At Turing College, we've developed a unique methodology, powered by software, that has boosted the amount of 1-on-1 tutoring provided to each student ten-fold by having more advanced students assist their junior peers. We still have professional instructors, but their role is, essentially, that of benchmarks, against which our software evaluates the quality of instruction that students provide to each other," Lukas Kaminskis explained.
Gamification and the role of peer-to-peer tutoring are only some of the topics that will be discussed during the Teso Talks: Accelerating change. How can technology make education better? panel discussion. Don't miss the Event updates on Facebook or LinkedIn.